THE JOURNEY
As I started my networking degree a few years ago, I wanted to learn how to put a camera system in my home because:
It would help me understand how some of the hardware works

How IPs and DHCP work

To monitor my kids while we were away

Peace of mind to be able to see my home when no one is home

Accomplishment
So, I started looking on security websites to see what camera packages were available and what they entailed. After browsing numerous sites, I realized how much stuff is out there. And the costs for the systems could vary greatly depending on what you want to have. My main goal for expansion was to have a system that could grow as I needed, which brought me to the cost of storing the data. Many companies or cloud services wanted to charge per amount of specific data used. So that means I could not have my cameras run all the time if I wished to for the number of cameras I purchased. I would have to set up time zones to run or only trigger when an event happens.
I also wondered how I would get power to my cameras as no outlets are sitting on the outside eave of my roof area. Am I really going to have to run ethernet cables and power through my walls? I thought, great, this is going to be a lot of work, and I will have to pay a lot each month. Then I ran across this acronym: ONVIF on some of the cameras. What the heck is that? So now to more research. ONVIF is the Open Network Video Interface Forum, focused on facilitating the development and use of a global open standard around interfacing with physical IP-based security products. I thought, awesome, doing a happy dance, this may be what I am looking for. I am not locked into a specific brand or type of camera. I also don't have to worry about being required to pay subscription sites.
Do I need to know how to program now since it's some open source? I grumble because I am in a networking degree, not a coding degree. Another issue: where is my camera data going to go? I need to research more. A few weeks later, it is starting to come together.
AFTER THE LONG RESEARCH HAUL
Great news! I don't need to know about coding, and I can store my data on an NVR (Network Video Recorder), which is like an unmanaged switch with hard drives to save the data. I also figured out my power issue. There is a technology called PoE (Power over Ethernet); you are getting your data through it, but it also has enough power to keep the camera running using an ethernet cable. I decided to get an NVR that could hold enough cameras, has PoE capabilities, and is ONVIF compliant.
Additionally, I did not think about how I would see my videos from my phone initially, as I was not comfortable opening my network this widely. This problem was solved when one of the NVRs I decided on had their application already set up for their NVRs. It was a GW Security 16 Channel H.265 4K 2160p HDMI NVR Network Video Recorder and had PoE Ports compatible with 8MP/5MP/4MP/1080P cameras using the ONVIF standards and had a pre-installed 4TB drive. There are smaller and more cost-effective systems out there; this system just had everything I was looking for at that time.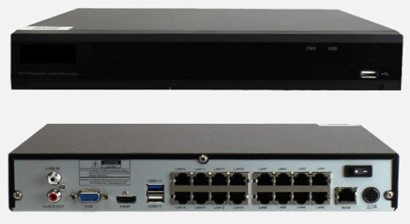 Next, was to find the ONVIF IP Cameras. After the regular internet searching, I just did the Amazon searching. I found many cameras that are ONVIF compliant with a price of around $50-$100 per camera. I did not need the ultra-high-definition view for my indoor cameras. I just needed to see the picture and have night vision and as a bonus feature on some was it allowed you to hear audio. What! That is awesome, I can solve all the kids' arguments and lies by watching a video and hearing what they said to each other… then showing them what they said to each other. Yep, you've just been caught in a lie.
So back to the cameras, I decided to get the Anpviz 5MP IP POE Dome Camera with audio for my indoor needs and a Goswift 4K Ultra HD Wide Angle Weatherproof Bullet with 100 Foot night vision for my outdoor needs, and of course, both are ONVIF compliant. Yes, it says Ultra HD and I said I did not need that, but I thought about it. I thought that it may be better for my outside cameras because of the zoom distance. Now these cameras fit my needs and were off brands so there may be similar ones with different names with different features that could fit your needs.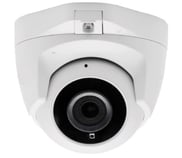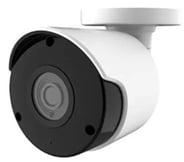 STUFF RECEIVED! NOW, WHAT DO I DO?
Now it's time to unbox everything and see what I have. I have everything I need, I think. Along with ordering my cameras, I also figured out where I wanted them in and around my house because I also had to buy the ethernet cord I needed to reach where I wanted it to go. The ethernet cable could be one that you put the tips on yourself or ones already terminated. I got CAT 7 shielded flat cables the length I needed. The flat cable was because I was not going to be able to run all the lines hidden in a wall. If I have a flat line, it sits better in some locations where I would have them covered with a trim piece. The next thing is to put your NVR where you want it. Do you like it hidden and secured in a locked room or accessible to you? That is a choice you must make. I installed my NVR where I wanted it and added a monitor and mouse.

I installed my cameras one at a time in and around my house as it does take time to drill holes in ceilings, floors, and walls to get the cables to go where you want them to go. I started with seven cameras, and as my house changed with some modifications, I added several more. After hooking everything up, all the cameras found an IP via DHCP. It was easy peasy. The NVR had a QR scan code to use within their 3rd party app for my phone, and it added my NVR. There was also a desktop application to see the cameras in your home. My system was up and running, and I did not have to pay any monthly fees to run my IP cameras all the time. Below is a simple diagram of the cameras installed in a home.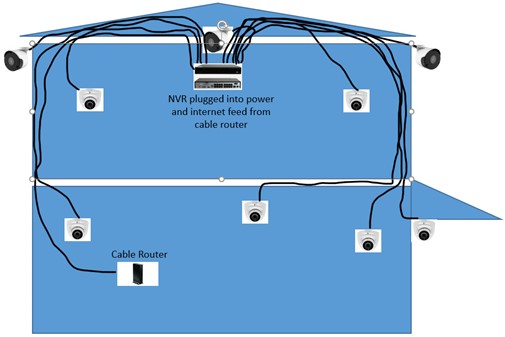 If your NVR is upstairs, you have to get all the cables to it, including the cable from your Internet cable modem. It helps if the ethernet cables run in an attic or crawl space.
THE ISSUES I RAN INTO
Running the ethernet cables was challenging since I wanted my cameras in a specific location, making it difficult to run the lines. I had to drill holes in the corners of floors or ceilings in rooms to run them through the house as the walls have insulation. I also have a glow-in-the-dark long fiberglass rod to pull a line through. You can come up with inventive ways to run your lines and hide them later if you cannot run them in a wall or crawl space.

Prices, as with most people, are on a budget. I had to buy my items in phases for what I wanted.

Adding additional cameras from various brands may require you to download their software to change the default IP address in the camera to your range and set it to DHCP, as DHCP is not a default on some. This just entailed me using the software on my laptop and plugging directly into the NVR, so I am on the same network and modifying it there.
BONUS
I got to help my neighbor out with my front camera as it views my entire driveway and into the street up to the sidewalk next door. My neighbor contacted me and asked me if I could check my cameras when someone destroyed her brick-encased mailbox. It was when drunk college students came down our street and did not realize it was a dead end. They got halfway down the road and started driving backward. You all know where that will lead. They jump the curb and plow into the mailbox. It was about 2 am. I saved the recording, gave a copy to my neighbor, and posted it on our city Facebook page. One of the girls returned the next day and left their number on the door to help pay for what they broke.
REFERENCES