The Secure Ideas Difference
We believe that security is a team sport, and we are constantly striving to improve our skills and knowledge so that we can better protect our clients. We are also committed to sharing our expertise with the wider community through training and speaking engagements.
The Experts
Bill McCauley
Bill McCauley is a Senior Security Consultant with Secure Ideas. He is a USAF Veteran and has worked with various electronics and IT systems over 20 years. His background covers a wide variety of industries including DoD, Healthcare, Education, Energy, and Security.
Bill has a strong interest in security, system administration, and training. His work experience includes system administration of various DoD and Healthcare systems within both Unix and Windows environments. He taught several Health IT classes for Lake Region State College. He has also spent a few years working with NERC CIP Compliance.
Bill holds a Bachelor of Science in Management/Computer Information Systems from Park University.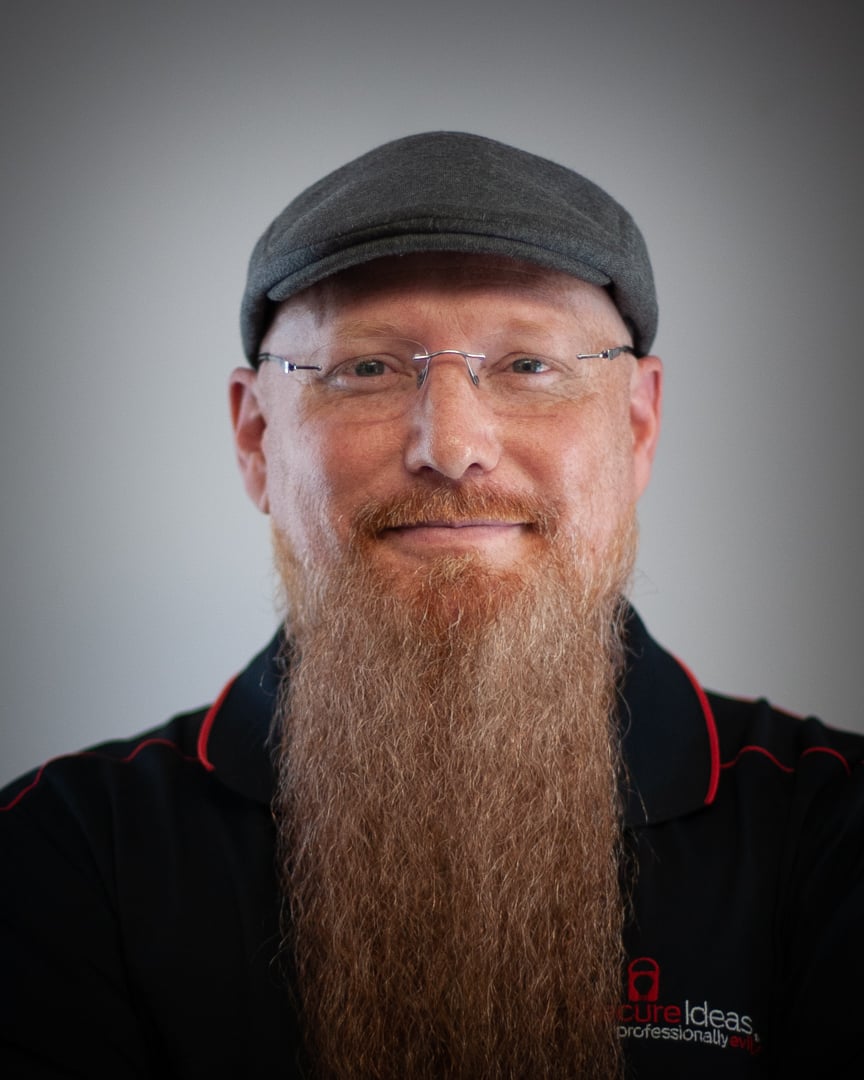 Travis Phillips
Travis Phillips is a Senior Security Consultant with Secure Ideas. Before joining Secure Ideas, he worked in the medical field as a data analyst & web/software developer before moving on to information security doing SOC work. He later moved on to product security testing for embedded systems on several architectures and device types. Travis also enjoys CTF's & wargames for hacking challenges as a pastime.
Travis has developed a strong skill set towards application security as a result of both working in the development and security fields, reviewing the security of applications in both roles. Travis enjoys teaching at local professional groups and conferences when he can and building tools to make security testing faster and easier.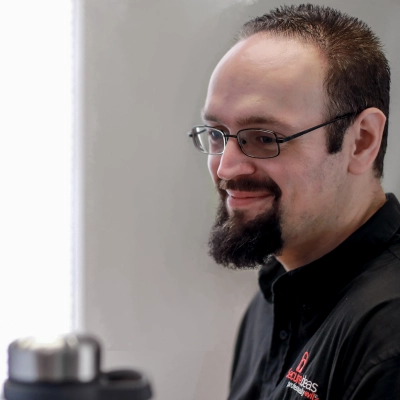 Jon Knepp
Jon Knepp is a dedicated Senior Security Consultant at Secure Ideas, bringing over two decades of experience in systems administration, infrastructure architecture, and technical leadership. His extensive career has spanned sectors including Financial Services, Healthcare, Big Data Analytics, and the Oil & Gas industry, and has encompassed roles in organizations of all sizes, from agile startups to multinational corporations.
With a professional background that embraces both technical proficiency and business acumen, Jon has a comprehensive perspective on how an organization's scale and complexity can influence risk management. Understanding the importance of process and repeatability, Jon adeptly uses this knowledge to develop strategies tailored to address the unique security needs of each organization. An accomplished scripter, he has refined his skills in PowerShell since its emergence, creating key process integration automations essential to various roles throughout his career.
Jon is particularly passionate about supporting small to medium-sized businesses in their cybersecurity endeavors. In this vein, he has produced numerous webcasts specifically tailored for these organizations, offering valuable insights into building robust cybersecurity programs. By sharing his expertise and insights, Jon aims to empower these businesses to build stronger, more secure digital environments.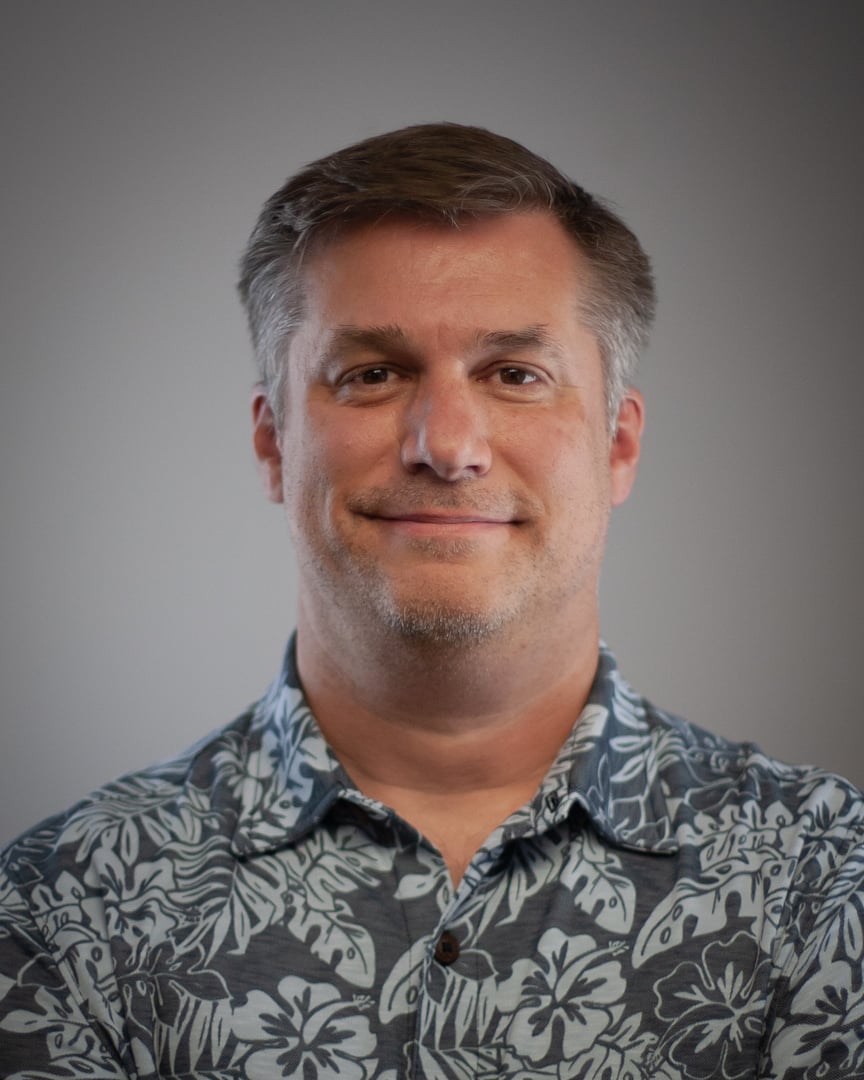 Doug Bigalke
Doug Bigalke is a seasoned security consultant with Secure Ideas, with experience performing penetration tests, security architecture reviews, and vulnerability assessments. In addition to this, Doug leverages a broad knowledge base in cloud infrastructure, including AWS and Azure, to support and maintain Secure Ideas internal infrastructure.
His tenure at Secure Ideas has been marked by his ability to streamline technical processes, which has led to significant improvements in the company's workflow and efficiency. Beyond this, Doug oversees the management of hardware assets, ensuring that each component of Secure Ideas' operations performs at optimal capacity.
Doug's industry experience extends beyond Secure Ideas. With a solid 15 years in the healthcare and financial sectors, Doug spent time developing data warehousing solutions and providing business intelligence insights. These experiences and his current role have afforded Doug a unique perspective on security needs across diverse sectors.
Doug's colleagues often describe him as the "salt of the earth," noting his down-to-earth nature and strong work ethic. Outside the confines of his professional life, Doug is an avid robotics enthusiast. His passion for building robots is peppered with a fascination for machine learning, a testament to his curiosity and eagerness to learn and grow continuously.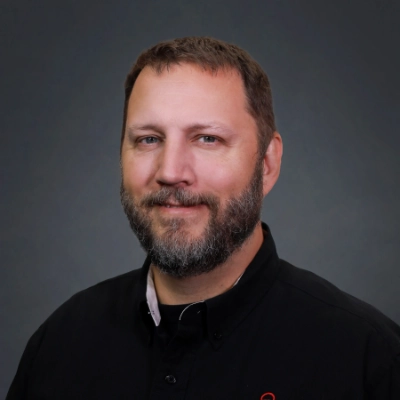 Cory Sabol
Cory Sabol is a Senior Security Consultant with a background in Artificial Intelligence, web development, and game development.
Cory has done substantial research on the topic of container security, focused primarily on Docker and Kubernetes. In addition to using these skills to identify and exploit misconfigurations during penetration testing engagements, Cory has taught workshops on this topic to other security professionals. Cory also has considerable experience with API security. He has developed custom API security testing frameworks and tooling.
Currently he is researching Artificial Intelligence security, and developing techniques and content on this subject.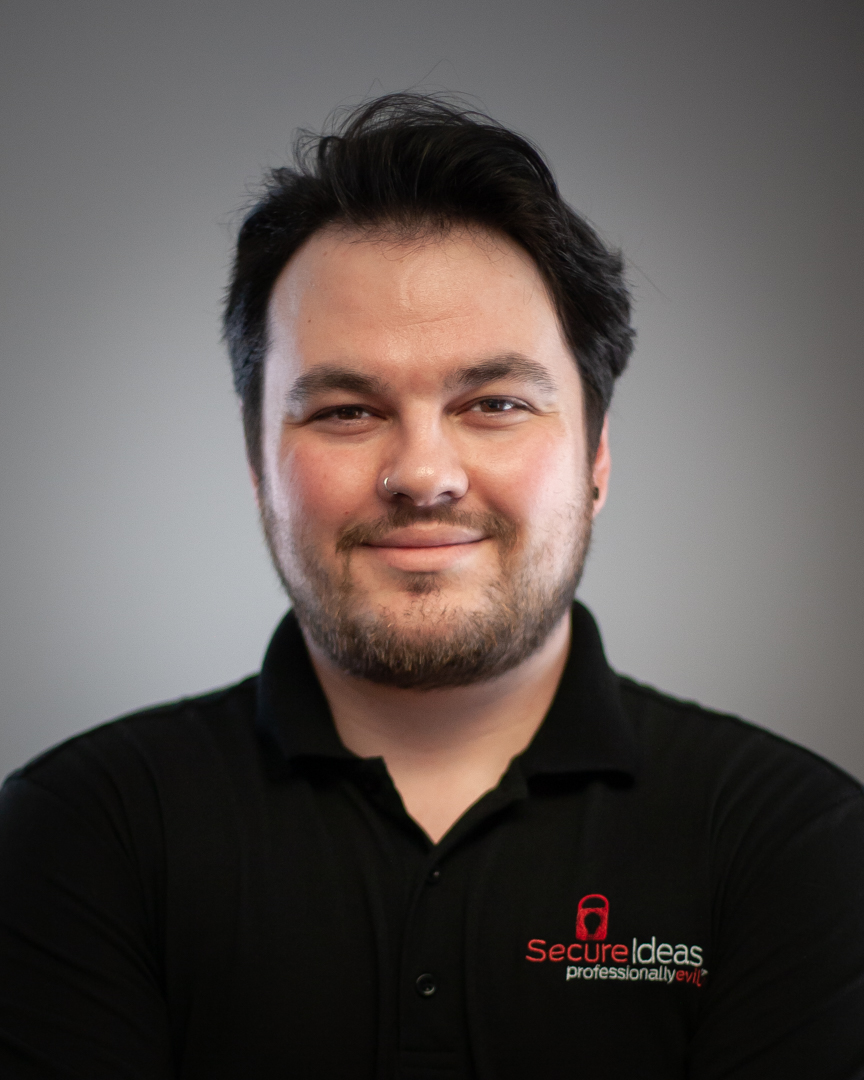 Alex Rodriguez
Alex Rodriguez is a security consultant with experience in Linux systems administration, Infrastructure as Code development, container platforms, automation development, and various CI/CD platforms. In his roles at Secure Ideas, he is one of the main admins of their production systems and all things automation. He utilizes Amazon Web Services, terraform, packer, vagrant, ansible, and also gets to work with clients on improving their infrastructure through penetration tests. Besides client work and system administration, he loves giving workshops and presenting on his various projects to the community. When he is not working, he is listening to as many podcasts as he can while continually improving in security, blogging, and coding.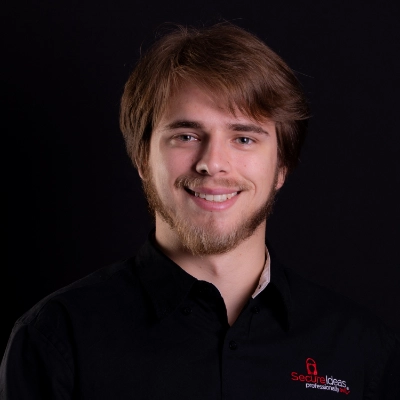 Jennifer Shannon
Jennifer is a Senior Security Consultant with Secure Ideas with a background in malware analysis, penetration testing, and teaching. She graduated with honors from Florida State College at Jacksonville's networking program. An avid computer geek for most of her life, she began her journey in cybersecurity as a SOC Analyst where she showed an aptitude for both penetration testing and malware analysis. She was quickly promoted into a role that capitalized on her abilities. She has experience performing penetration tests against web applications, mobile software and platforms, and social engineering.
Jennifer discovered a passion for computers and problem solving at a young age. She bought Steal This Computer Book 2.0, by Wallace Wang, with one of her first paychecks, and became enamored with hacking and cyber security. While pursuing her degree she dedicated time to teaching computing skills to underrepresented minorities. She is the co-leader for the TOOOL chapter in Jacksonville, FL. Jennifer continues to be passionate about teaching and is eager to share her knowledge with anyone who will listen.
In her free time, she likes gaming, playing around with SDR's, and painting.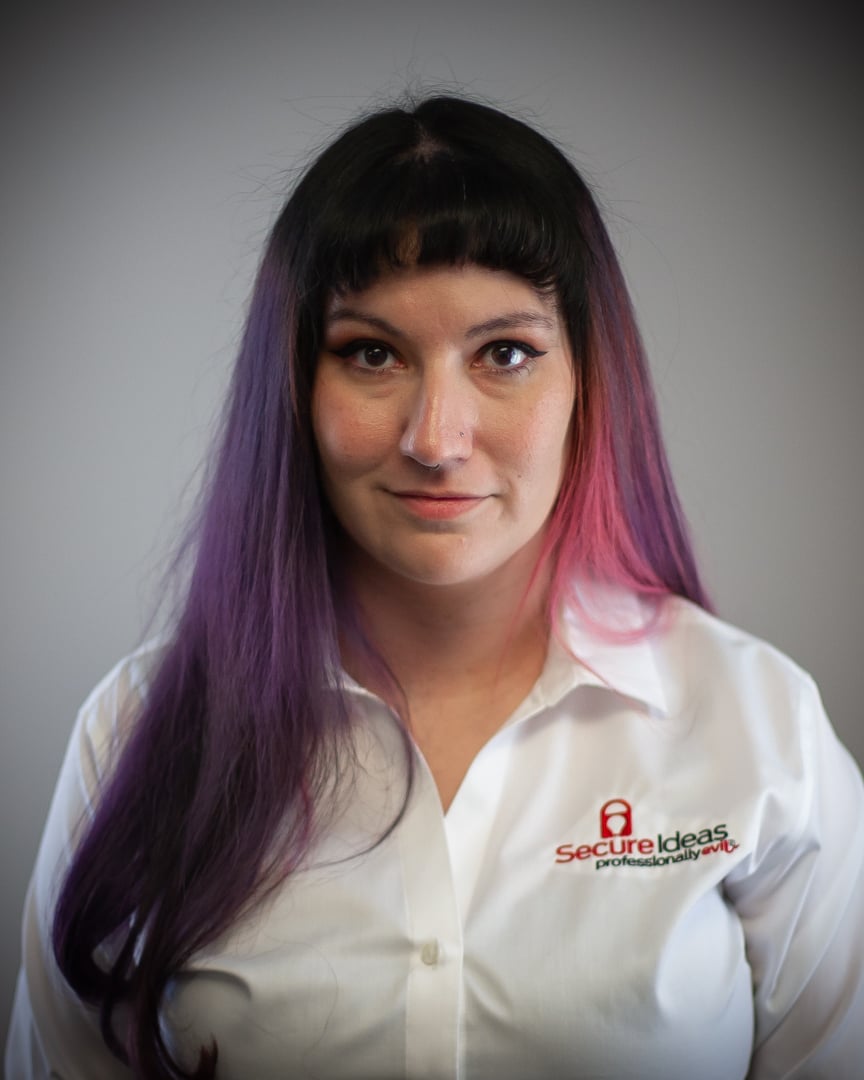 Kathy Collins
Kathy Collins is a Security Consultant at Secure Ideas. She performs penetration testing, Scout services, and produces the bi-weekly Professionally Evil Podcast. Kathy studied Cybersecurity at Fullstack Academy New York, holds a CompTia Security+ certification and is studying for the CISSP exam. Kathy's background consists of 20 years of non-profit, education and corporate experience in the hospitality industry. She enjoys writing, 80's horror movies, the outdoors, hands-on projects, cooking, and building and modifying mechanical keyboards.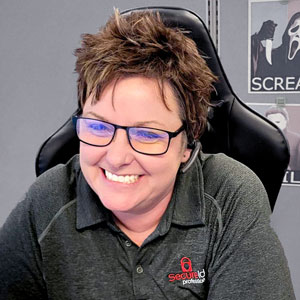 Aaron Moss
Aaron Moss is a Senior Consultant for Secure Ideas. With almost 20 years in various technical roles ranging from Helpdesk to IT Consultant to Director of IT Operations, he has expertise in multiple areas and disciplines. He particularly enjoys network pentesting, an area he specializes in.
Aaron is excited to be one of the co-founders and organizers for Oklahoma's largest Information Security/Hacker conference, BSides Oklahoma. Participating in BSidesOK is a humbling and rewarding experience which allows him to connect with other IT and Security experts in Oklahoma and the surrounding states.
Outside of hacking all the things, he loves spending time with Jade (his wife) and family playing games of all kinds, watching Horror movies (especially slashers!), air drumming to Cannibal Corpse and Slayer, or making random gory and grotesque horror movie/haunted house props and masks.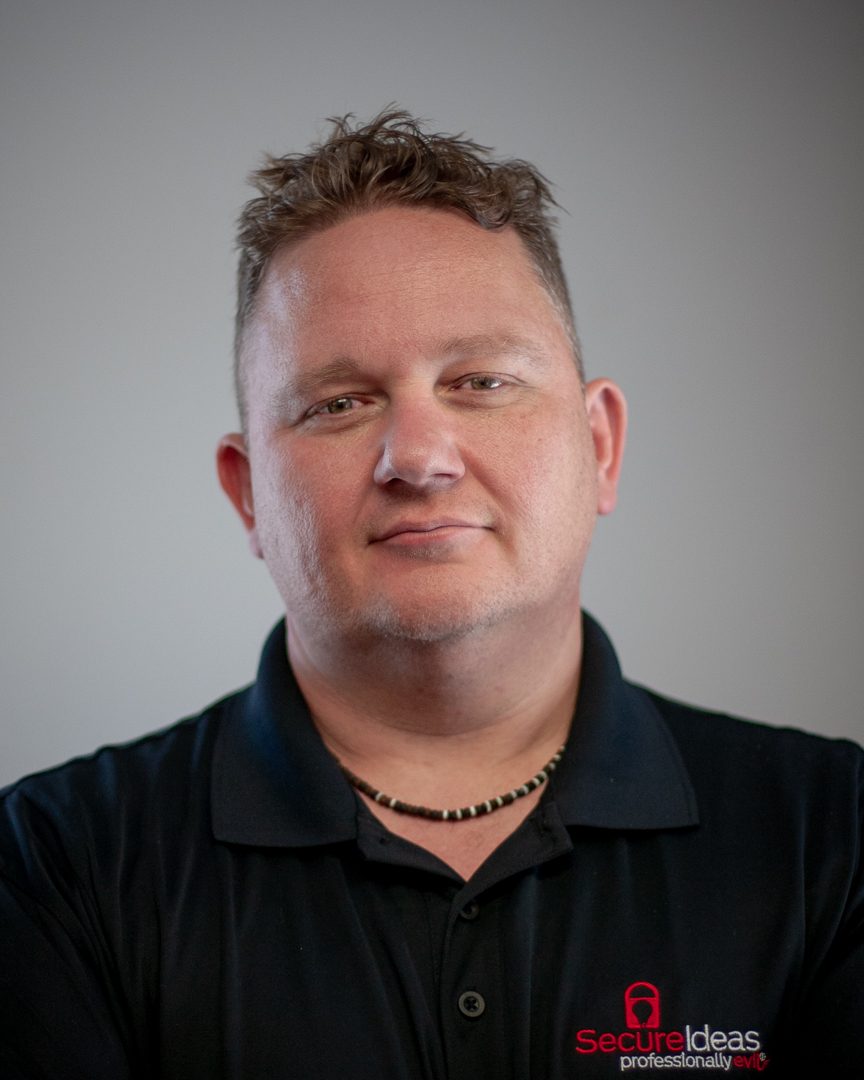 Simon Davis
Simon Davis serves as a full-stack web developer at Secure Ideas. His expertise is grounded in over four years of professional experience in front-end development, primarily serving the healthcare and security industries, complemented by over a year of experience in cloud and back-end development.
Beyond his professional life, Simon has a diverse range of interests that include rock climbing, practicing karate, gaming, and reading books. An explorer at heart, he revels in the discovery of both new and age-old solutions to everyday challenges. This unique fusion of skill sets and interests positions Simon as a vital contributor in our mission to deliver practical and effective solutions for our clients.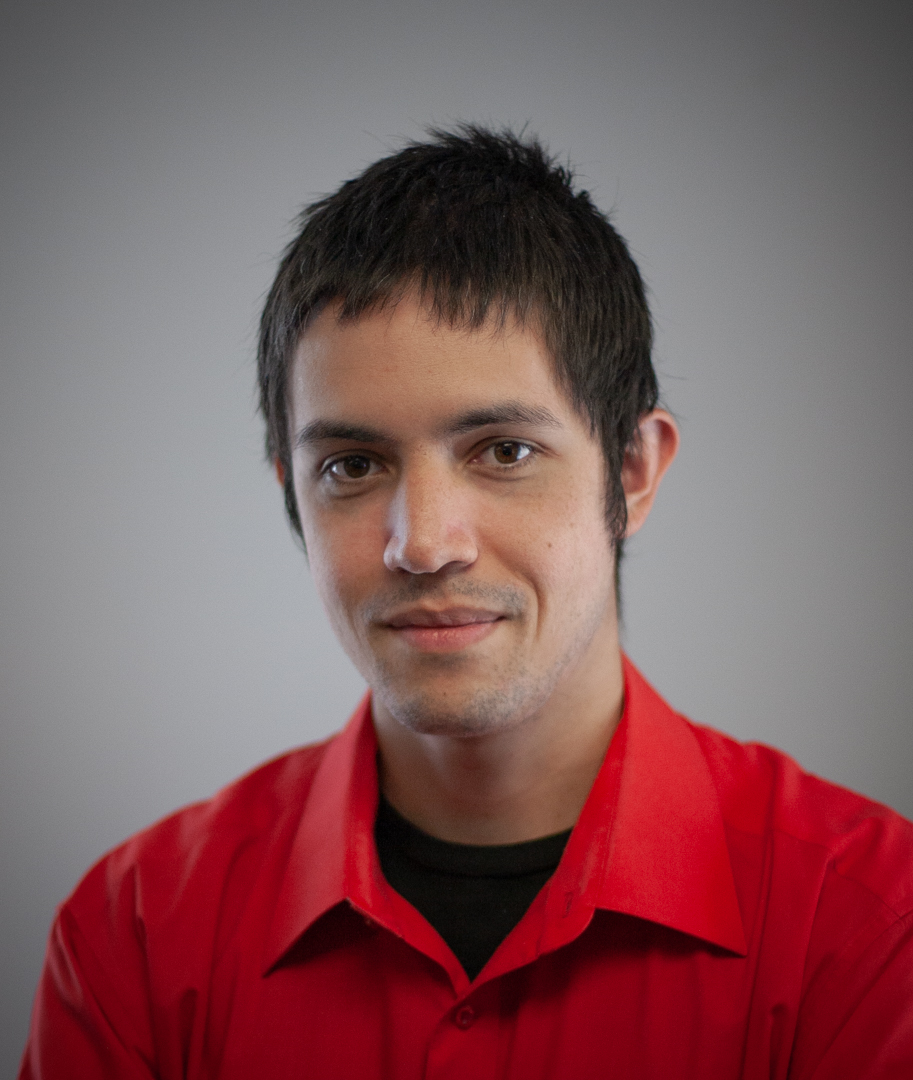 Simon Bremner
Meet Simon Bremner, a full-stack developer and an expert in user experience design (UX). With a keen focus on human/machine interfacing and data consumption patterns, Simon creates seamless and visually captivating digital experiences.
As a full-stack developer, Simon's expertise spans the entire web development spectrum, enabling him to craft feature-rich and intuitive applications. His extensive knowledge of various programming languages and frameworks empowers him to deliver exceptional user experiences.
With almost a decade of Graphic/Product Design experience, Simon's unique strength lies in understanding user behavior and psychology, shaping his user-centric approach to interface design. By prioritizing user needs and preferences, he ensures that his creations are not only aesthetically pleasing but also intuitive.
When Simon isn't working, you'll find him building guitar pedals, capturing moments through his photography, immersing himself in a new JavaScript framework, or kicking a soccer ball around.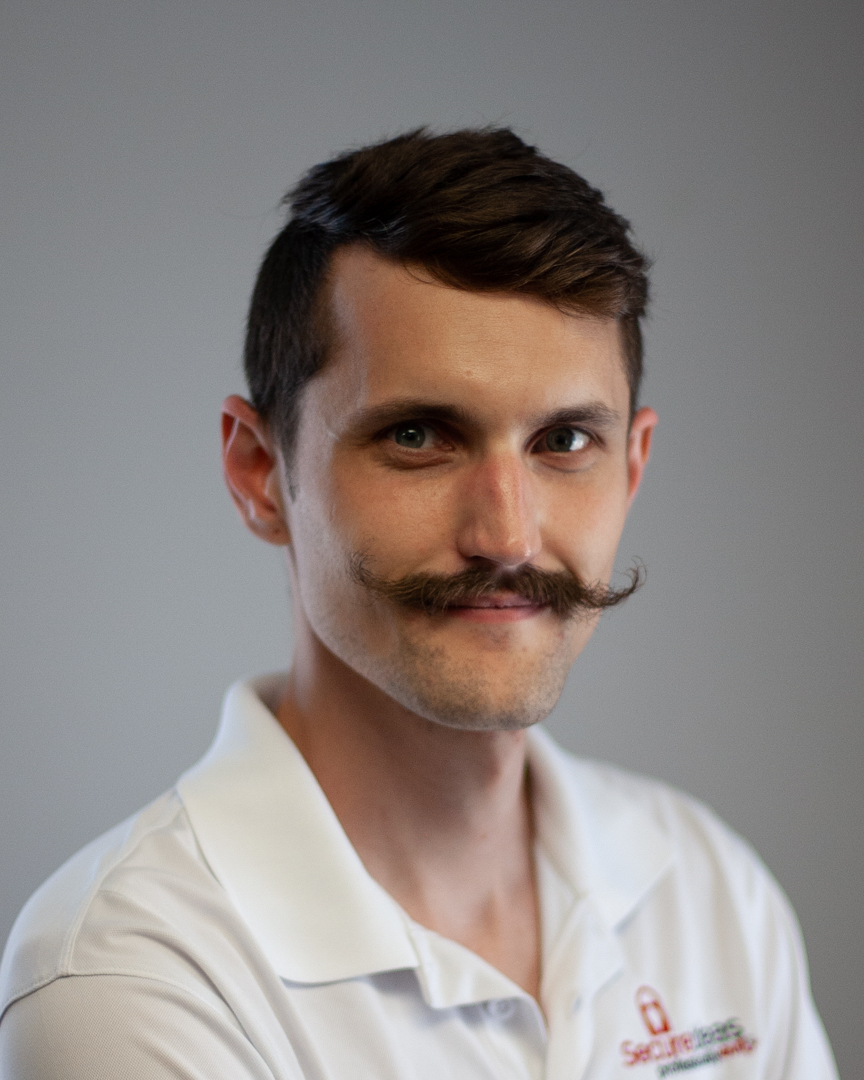 Josh Kemp
Josh Kemp is a dynamic and vibrant addition to the Secure Ideas team, where he takes on the role of a Security Consultant in Scout Services. His unconventional journey into cybersecurity started in the service industry, where he honed his expertise as a DJ and Bar Manager. Amid the melodies and mixes, Josh found a fascination with computers and information systems, revealing a natural inclination toward technology. This newfound passion sparked a career pivot, leading him to pursue a degree in Computer Information Technology. His background in the service industry and education have endowed him with a unique blend of skills to perform security assessments.
When Josh isn't meticulously inspecting systems for security vulnerabilities or studying to broaden his technical knowledge, he finds solace in his affinity for electronics. He enjoys delving into the intricate world of turntables and other small electronics, repairing and modifying them. This hobby not only exhibits his deep-rooted fascination for technology but also serves as a testament to his patience and meticulous attention to detail.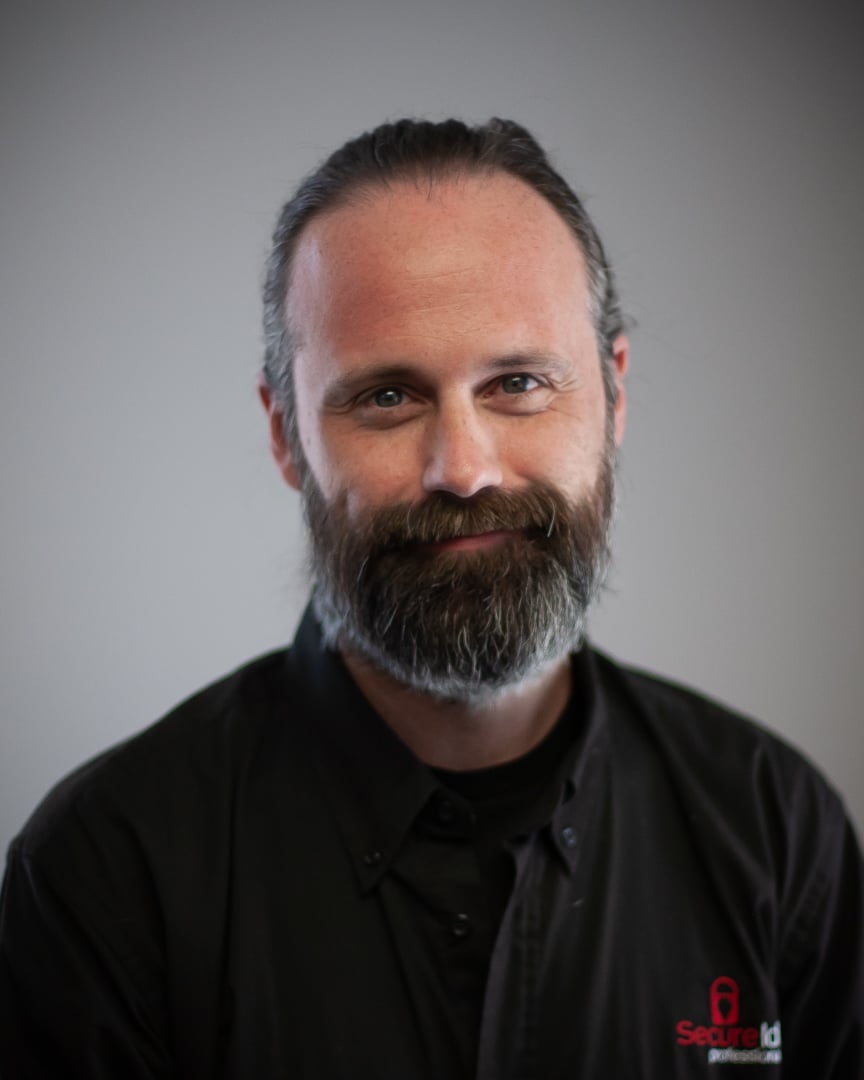 Larry Hammond
Larry Hammond is a Senior Security Consultant for Secure Ideas, where he helps clients find vulnerabilities and architectural issues in their systems. He has a wealth of experience in different security roles, from information protection to technical sales to penetration testing. He knows the ins and outs of securing networks, as well as the benefits and risks involved.
Larry has worked with various industries, performing application, network, and wireless security testing. He has also been a sales engineer for security detection and response products, where he learned about the challenges of defending large enterprise networks from cyberattacks.
Larry is thrilled to be back in security consulting, where he can use his skills and knowledge to make the digital world a safer place. When he's not hacking away at his keyboard, he likes to create metal furniture and art that showcase his creativity and craftsmanship.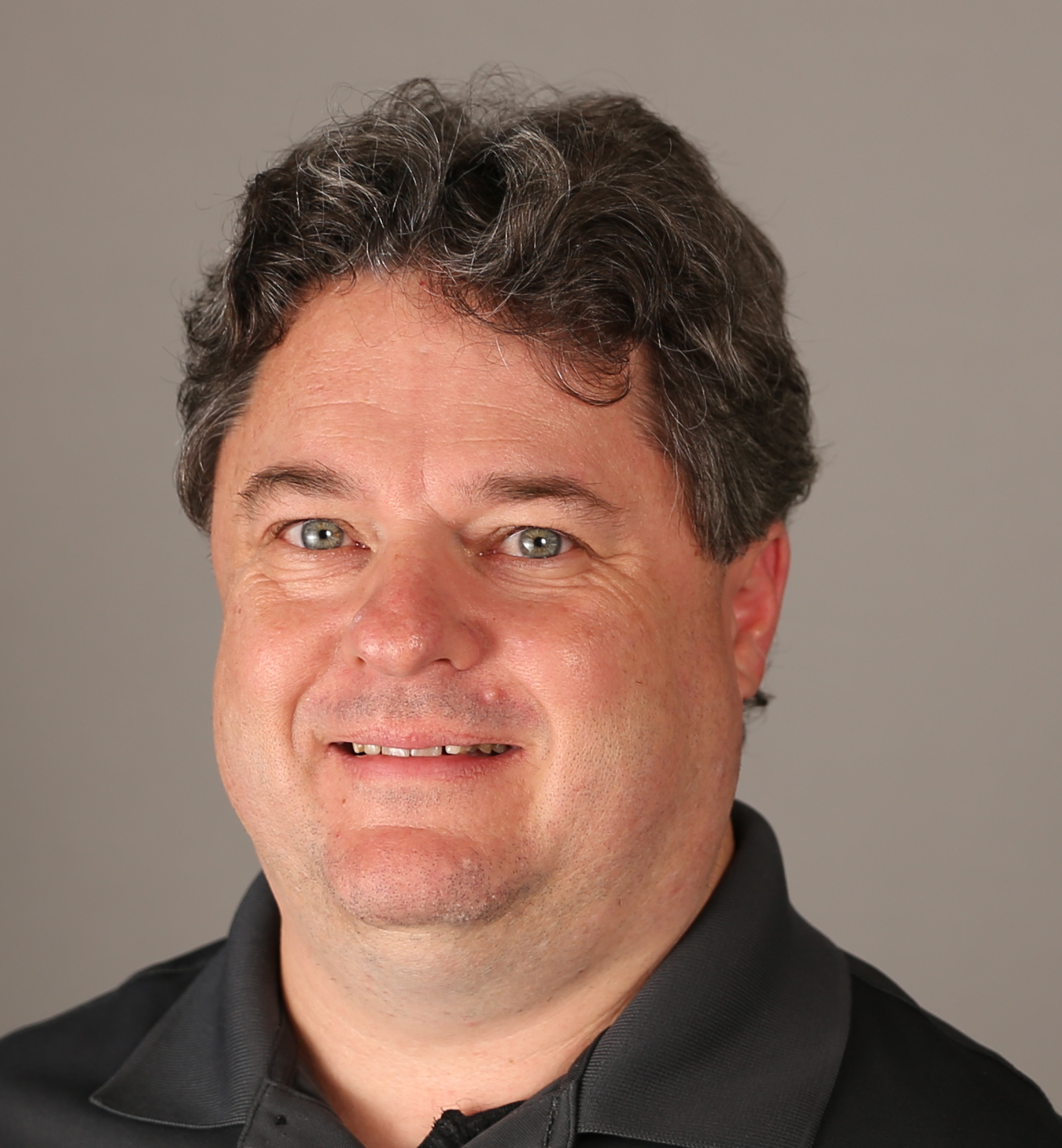 Operations Crew
Jenee Rogers
Jenee Rogers is a Project Manager for Secure Ideas, coordinating and scheduling projects and tests for all clients. She works closely with both clients and consultants on a daily basis to ensure that projects are completed on time and on budget. As part of the many hats she wears, Jenee also helps set up and run training programs and webcasts for Secure Ideas.
Jenee has taken an unconventional route to becoming a Project Manager. The interest was ignited by her obsession with time and her friends' need for a day of wedding coordinator. She has planned and worked multiple weddings as well as conferences including BSidesCLT, a Cyber Security conference in Charlotte, NC. Events like BSidesCLT helped spark her love for Lockpicking, in which she created her non-profit Locksport training group, FoxPick. She and her team train at 10+ conferences per year to raise money for Hak4Kidz. She and Morgan (her husband) recently developed the brand new Locksport game, PicTacToeTM. FoxPick built relationships in the Cyber Security community which allowed her to meet the Secure Ideas team who provided her the opportunity to learn and excel at Project Management.
Jenee graduated from UNC Charlotte with a degree in Software Information Systems and a minor in Computer Engineering. She is a Carolina Panthers fan, is absolutely obsessed with Futurama, and is fluent in American Sign Language and English.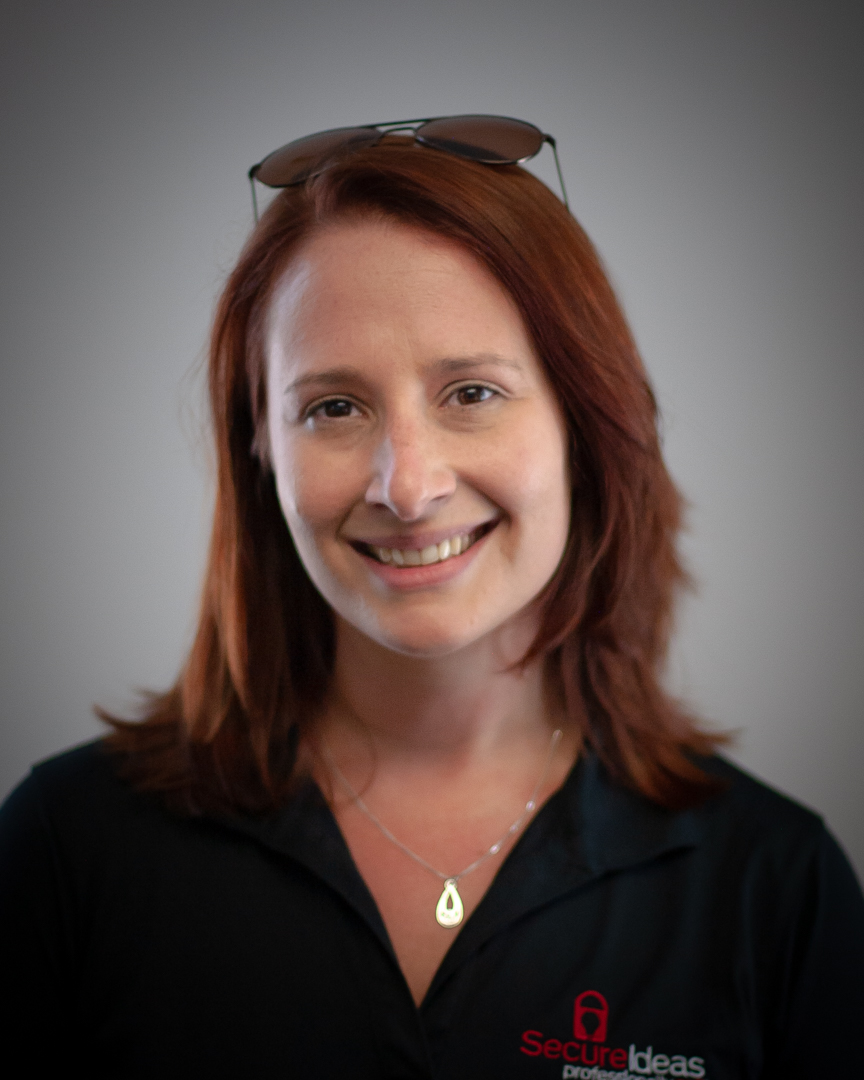 Brenna Johnson
Brenna Johnson is a Project Manager and Accounting Specialist with Secure Ideas. She started on the team as an Office Assistant and transitioned over to Accounting and Project Management. She hopes to get her degree in Psychology and ultimately graduate with her PhD. Currently she is taking courses to better understand and help clients through Project Management. She currently has a certificate in Project Management through Google but aims to gain more.

When she isn't learning she also enjoys Tae Kwon Do, Horseback Riding, and art.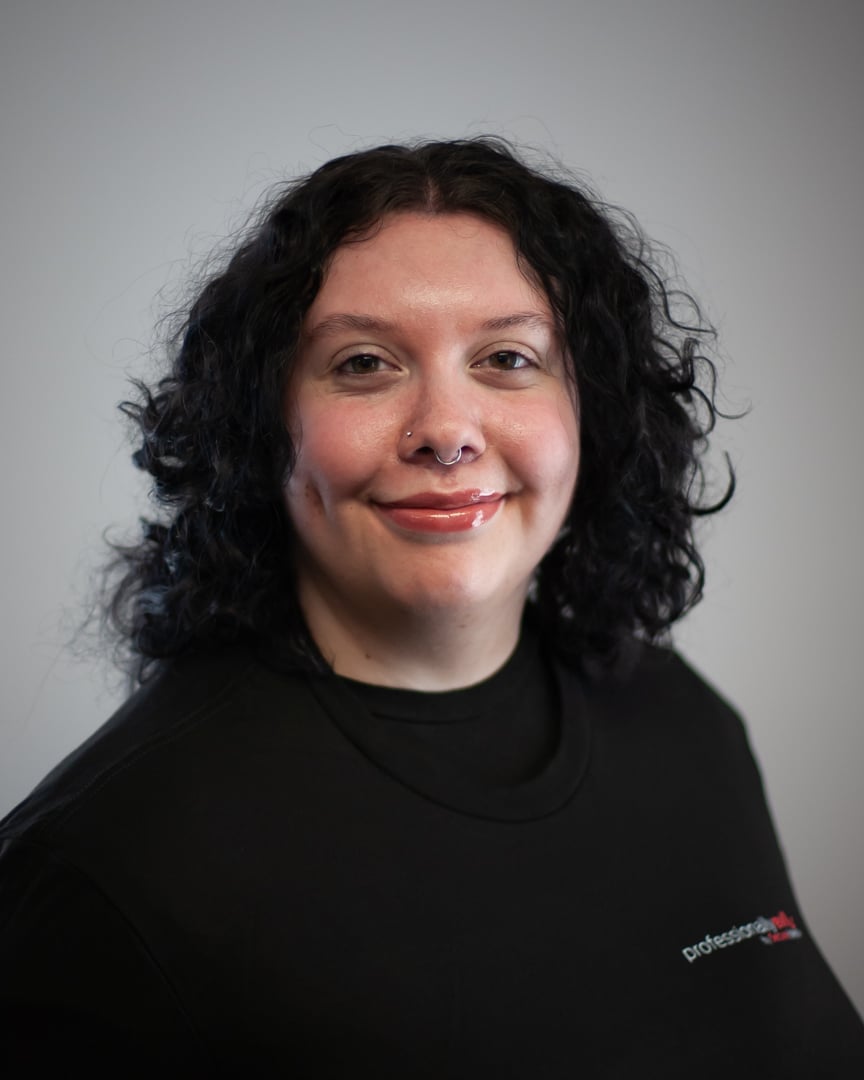 Bea Gillam
Meet Bea Gillam, a passionate and creative individual with a flair for marketing and content creation. She has been apart of Secure Ideas since 2020 and has been assisting the the Marketing Department by shaping compelling content that aligns with the company's mission of enhancing digital security.
Bea's passion for creativity extends far beyond her professional life. In her free time, she indulges in her love for writing and art, finding solace in the boundless world of imagination. Whether it's crafting captivating stories that transport readers to distant worlds or channeling her emotions into a sculpture, her artistic endeavors know no bounds.
With an innate ability to blend creativity and marketing, Bea brings a fresh perspective to the projects she undertakes. Her innovative ideas and out-of-the-box thinking have been an important asset to the Secure Ideas' Team.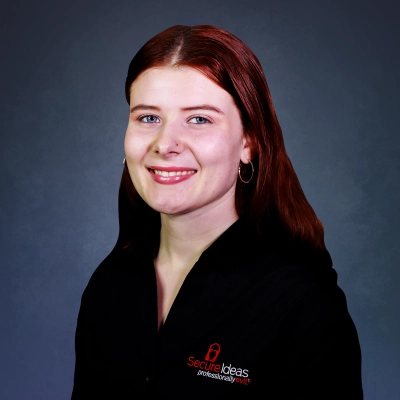 Britiney Tackett
Britiney Tackett is a multifaceted professional who has embraced diverse career paths and continuously sought new challenges and opportunities. With a rich tapestry of experiences, she has forged a unique and dynamic journey.
At the young age of 16, Britiney embarked on her professional journey by working on class action cases for the railroad, showcasing her early passion for the legal field. However, her creativity also beckoned her in a different direction. Pursuing her love for the arts, she enrolled in college to study fine arts, nurturing her innate talent and honing her creative skills.
Driven by her passion for makeup artistry, Britiney pursued specialized training at Cosmix School for Makeup Artistry in Ft. Lauderdale, Florida. Her exceptional talent caught the attention of industry professionals, and she was invited to join the professional makeup team for Miami Fashion Week in 2005. This remarkable opportunity allowed her to showcase her artistic flair and collaborate with renowned fashion icons.
Harnessing her entrepreneurial spirit, Britiney launched her own business, specializing in wedding makeup artistry and professional photography. Simultaneously, she managed a health and beauty retail store, demonstrating her versatility in managing different aspects of a thriving enterprise.
Seeking new avenues for professional growth, Britiney transitioned into the legal field, becoming a paralegal with a focus on privacy law and corporate governance. Her dedication and expertise propelled her through various legal domains, culminating her final tenure in family law.
Never one to settle, Britiney seized the transformative opportunities during the 2020 Covid crisis. Eager to embrace the ever-evolving world of technology, she enrolled in the Cybersecurity Bootcamp at the University of North Florida. Completing the program, she acquired essential skills and knowledge in cybersecurity, paving the way for her transition into the dynamic realm of technology.
Today, Britiney Tackett stands as a testament to adaptability, resilience, and a relentless pursuit of personal and professional growth. With a diverse background spanning law, artistry, entrepreneurship, and technology, she embodies a true Renaissance spirit. Guided by her unwavering determination, she continues to evolve and excel in her chosen endeavors, leaving an indelible mark wherever her journey takes her.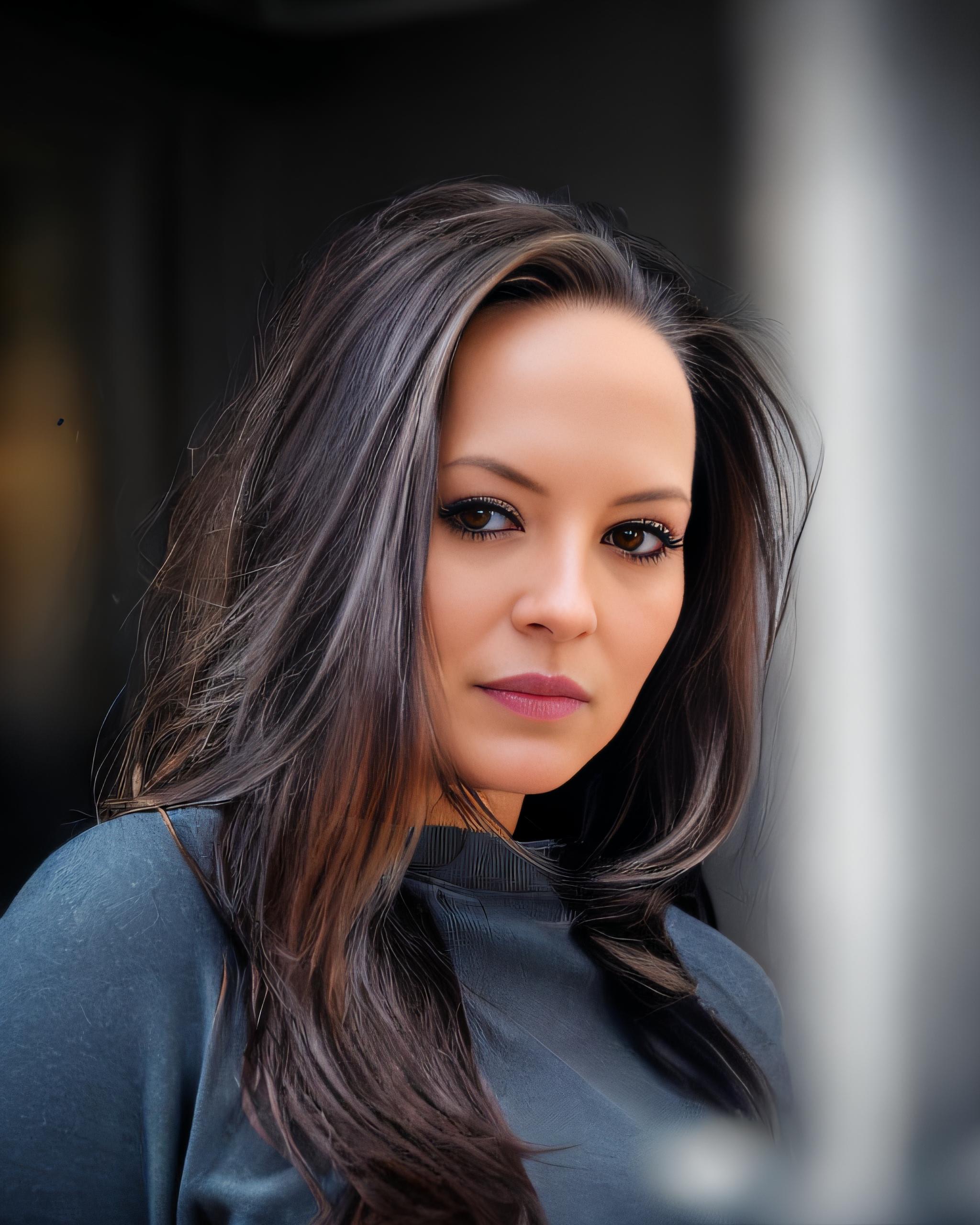 Why Secure Ideas?
Secure Ideas has been testing security systems since 2010, and its core testing competency is performed by consultants with at least ten years of IT experience each. Our primary goal in every penetration testing engagement is to help our clients improve their security posture. Here are a few other ways we stand out:

Mission
Though we are referred to as hackers, Secure Ideas was founded on a strong foundation of ethical security testing. Well defined rules of engagement, local and federal laws, and our clients' privacy are all critical considerations to us in every engagement.

Vision
You will never have to worry about Secure Ideas trying to pass off an automated scan as a penetration test. We make an effort to understand the technology and the current threat landscape to thoroughly test the security of IT systems and advise our clients accordingly.

Values
We place a high value on our relationships with our clients. It is not enough to just do a penetration test and write up a report. At Secure Ideas, we welcome follow-up conversations, feedback, and questions from our clients year-round.