Some of the Secure Ideas team headed down to the "Big Easy" last month for (ISC)2's 2018 Security Congress, and it was a BIG hit. From the various trainings and breakout sessions, to networking with vendors, it was a breath of fresh air hearing that security is really becoming a top priority for many organizations.
In talking with vendors and attendees over the course of the week, however, it became clear the issue keeping most executives up at night is the lack of qualified security professionals.
While security is becoming increasingly important to organizations, so is proper education, and that was the real impetus for joining (ISC)2 in their mission to create quality content for their members. In our mission to educate and equip organizations with the knowledge to enhance their security posture, and stand up to malicious attacks, Secure Ideas created a new, two-day course focused on the OWASP Top 10 most critical web application security risks.
Secure Ideas' OWASP top 10 course has been extremely successful as it has allowed for a truly hands-on experience that creates an environment for security professionals to gain a more thorough understanding of not only the most critical security risks, but also effective controls to be implemented.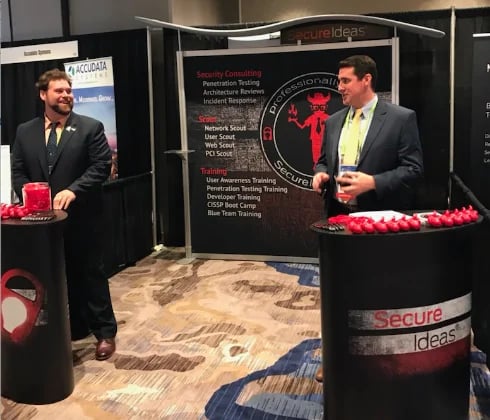 Andrew Kates (Left) and Drew Cavin (Right) at the 2018 (ISC)2 Security Congress
If you were unable to attend our most recent training at the Security Congress in New Orleans, or missed us at the vendor hall and would like to learn more about the Secure Ideas team, please feel free to contact us directly at info@secureideas.com and be sure to check back with us periodically, as we're always scheduling new courses and professionally evil content.