Speaking is a major fear for most people. Even though I have been speaking at public events of one type or another for the last 20 years, I am still not comfortable presenting to crowds. (Thats putting it lightly.) So when my daughter started talking about "doing what you do, dad", I was curious how it would work out.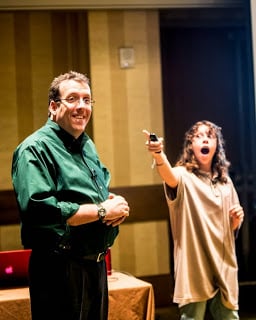 Brenna and I started talking about a presentation about a year ago. She wanted to speak with me on a topic that would work at the SANS events she often travels to with her sister and mom. Since she is home-schooled, she is able to travel with me more often then other kids, so scheduling the event was easier then it could have been.
The first step was to figure out a topic. We needed to determine a topic that would interest the SANS audience and be something that Brenna could feel comfortable with. Since she often uses mobile devices and it is a hot topic lately, we decided to do an analysis of the traffic from popular kids applications and games. We wanted to see how private they were. Of course I also wanted to educate her on the tricks these applications often pull.
The next step was to start working with her on presenting. I didn't want to overwhelm her or make her nervous, so I just started talking with her about how presenting and working through a topic happens. I also showed her videos of me presenting. This was made easier because she had started attending my talks and taking notes. (I will admit that the first time she took notes I assumed it would be doodling. It wasn't!)
The third step was when we worked together on the analysis. I believe firmly that presenting becomes MUCH easier if you are comfortable with the topic. So Brenna and I played with Burp Suite (yes she giggled every time we mentioned the name of the tool) and looked at what was going on a few different times. I also had her sit with me as I did web penetration tests for Secure Ideas. This allowed her to get any questions out and to feel more confident that she understood what was happening.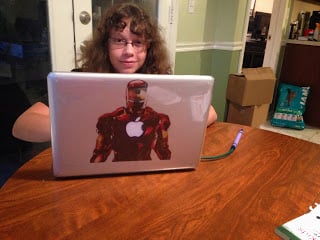 The final step in preparation was to build the slide deck. Brenna and I worked together to make sure that again she felt comfortable with what we were going to be speaking about. This was actually the simplest part of the process.
Finally the night of the talk arrived.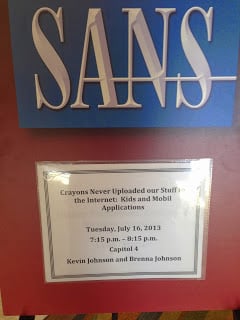 Brenna and I went to the room earlier than the start of the talk. My idea was for her to get used to the size of the room and that she would be in front of a crowd and projectors. (Those things are bright and hot!) She was a little nervous but held together well. I just talked to her normally and got her to laugh. When we started, she was a bit shy and kind of hid behind me, but that didn't last long. As you can hear in the presentation recording we uploaded to our YouTube channel earlier (and embedded again below), she got out there and was making fun of me with the best of them! 😉
Kevin Johnson is the CEO of Secure Ideas. If you are in need of a penetration test or other security consulting services you can contact him at kevin@secureideas.com or visit the Secure Ideas – Professionally Evil site for services provided.